USAA Car Insurance Review [New]
UPDATED: Nov 23, 2020
Fact Checked
Free Car Insurance Comparison
Compare Quotes From Top Companies and Save
Secured with SHA-256 Encryption
UPDATED: Nov 23, 2020
It's all about veterans. We want to help you make the right coverage choices.
Advertiser Disclosure: We strive to help veterans make confident auto insurance decisions. Comparison shopping should be easy. We are not affiliated with one auto insurance company and cannot guarantee quotes from any single company. Our partnerships don't influence our content. Our opinions are our own. To compare quotes from many different companies please enter your ZIP code on this page to use the free quote tool. The more quotes you compare, the more chances to save.
Editorial Guidelines: We are a free online resource for veterans interested in learning more about auto insurance. Our goal is to be an objective, third-party resource for everything auto insurance-related. We update our site regularly, and all content is reviewed by auto insurance experts.
UPDATED: Nov 23, 2020
It's all about veterans. We want to help you make the right coverage choices.
Advertiser Disclosure: We strive to help veterans make confident auto insurance decisions. Comparison shopping should be easy. We are not affiliated with one auto insurance company and cannot guarantee quotes from any single company. Our partnerships don't influence our content. Our opinions are our own. To compare quotes from many different companies please enter your ZIP code on this page to use the free quote tool. The more quotes you compare, the more chances to save.
On This Page
UPDATED: Nov 23, 2020
Fact Checked
Considering signing up with USAA? This major corporation is a well-known provider of insurance for military members and for military veterans.
So if you're reading this review, you've probably already seen a USAA commercial on TV or have heard about it from someone else. However, you need to judge for yourself if USAA is the right provider for you.
After all, choosing an insurance provider is an important decision, since you're trusting it to help you through an accident. To see if USAA is worth it, keep reading to learn about everything from USAA's ratings to website design.
If you want to start comparison shopping for rates today, enter your ZIP code in our free online tool above.

Rating Agency
Looking at ratings is one of the best ways to get a handle on a company's service. To save you time searching through ratings and reviews, we've collected all the important reviews from major sites.
Stick with us to learn about USAA's ratings, from financial ratings to customer satisfaction studies.
– A.M. Best
The first rating we are going to dive into is a financial rating from A.M. Best.
USAA has an A++ rating from A.M. Best, which is the highest rating available.
This is fantastic. It means USAA has "a superior ability to meet their ongoing insurance obligations."
So USAA is financially strong, making it better able to pay out claims to customers.
– Better Business Bureau
You may have heard of the Better Business Bureau (BBB) before or seen its logo and rating plastered on a company's storefront window.
The BBB's ratings of businesses are calculated from the following factors:
Complaint history
Business type
Time in business
Transparency of business practices
Failure/success in honoring commitments to the BBB
Licensing and government actions
Advertising issues
USAA has an F rating in most areas of the United States, such as areas in California.
Why does USAA have such a poor rating from the BBB?
Most likely, it is because of USAA's score in the category of licensing and government actions. Recently, the following government actions have been taken against USAA:
Bureau of Consumer Financial Protection versus USAA. The government brought a lawsuit against USAA for violating the Electronic Fund Transfer Act, Regulation E, and the Consumer Financial Protection Act of 2010. USAA failed to stop payments when requested and opened deposit accounts without notifying customers.
Office of the Comptroller of the Currency versus USAA. USAA failed to have a proper risk-management system put in place. As a result, the court has appointed a compliance committee to fix the issues within USAA.
If USAA fixes these issues and makes sure not to repeat them, its BBB rating should improve.
– Moody's Rating
Let's take a look at another financial rating. Moody's rates companies on credit risk, so that consumers can judge how well the business is run and how stable it is.
This is a great rating — the second-highest rating possible. Like A.M. Best's rating, it means USAA is a low credit risk and has a strong ability to repay debts.
– S&P Rating
Standard and Poor's (S&P) is another financial rater that focuses on companies' ability to repay debts.
USAA has an AA rating from S&P.
This is the second-highest rating available, and it means USAA has a strong ability to pay back debts (which includes claims).
– NAIC Complaint Index
A complaint index is the number of customer complaints compared to the number of a company's customers.
The National Association of Insurance Commissioners (NAIC) has collected extensive data on companies' complaint indexes.
In 2017, USAA's complaint index was 0.74, which was below the national median of 1.0.
USAA's complaint index is low, which means the percentage of customers who submit complaints to USAA isn't high.
– J.D. Power
J.D. Power's 2019 study surveyed over 42,500 insurance customers and then rated companies according to customer satisfaction levels.
Scores out of 1,000 are given, and then each company is— assigned a J.D. Power circle rating.
Five power circles — among the best
Four power circles — better than most
Three power circles — about average
Two power circles — the rest
Below is USAA's J.D. Power ratings in different U.S. regions.
USAA scored great in every U.S. region, earning five power circles for among the best. This is great since it means USAA has better-than-average customer service.
– Consumer Reports
Consumer Reports is another company that studies customer satisfaction to help customers get the best product possible.
Below is Consumer Reports' rating of USAA's claim process.
USAA has a score of excellent in every category, which is the highest rating possible.
– Consumer Affairs
The last customer satisfaction rating we want to take a look at is Consumer Affairs' rating of USAA.
USAA has two out of five stars (based on almost 300 reviews).
This is a poor rating, but it only represents a minuscule portion of USAA's customers. On the other customer review ratings we've looked at, USAA scored much better.
Compare quotes from the top auto insurance companies and save!
Secured with SHA-256 Encryption
USAA Company History
USAA has been around since the 1920s, when a small group of U.S. Army officers insured each other's vehicles. In the last century, though, USAA has grown beyond just insurance for a handful of officers.
Through the introduction of the USAA Federal Savings Bank and insurance for all branches of the military, USAA now offers auto, business, home, life, and health insurance in addition to investment opportunities.
So if you are at USAA, you can have several policies and your bank account all with one company. Before you trust USAA with such a huge responsibility, though, you need to see what USAA's future looks like.
Let's jump right into looking at everything from USAA's market shares to its awards and accolades.
– USAA Market Share
Even if a company is large, it still needs to work on staying competitive and growing its market share.
Below is the NAIC's data on USAA's market shares.
USAA has managed to increase its market share slowly over a four-year period. While less than a 1 percent increase may not seem like much, it is actually a significant portion in the market.
– USAA's Position for the Future
USAA has strong financial ratings, which means it's not at risk of going bankrupt and leaving you without a provider.
As well, USAA's market share has increased, showing the company is growing. While USAA had some negative ratings from the BBB and Consumer Affairs, the other customer satisfaction ratings were great.
So even though USAA has had some issues, it has not affected the company. As a result, USAA has a good future ahead of it.
– USAA's Online Presence
Every company needs to have a strong online presence to help promote the company and attract new customers. In addition to USAA's website and mobile apps, the company has the following online presences:
Facebook (@USAA)
Instagram (@usaa)
Twitter (@USAA)
YouTube
USAA also the option to talk to an agent in person. While USAA agents aren't in every area, this can be a great option to go over questions and concerns about a USAA policy.
– USAA's Commercials
In addition to an online presence, companies need to promote themselves through media outlets, such as radio ads or TV commercials.
USAA has many commercials. The commercials take a sentimental approach to promote USAA, focusing on families.
There are also commercials that focus on how military members have served us and how we can give back as a community.
Because USAA's commercials focus on actual service members, they personalize USAA as a company. Instead of a corporation, USAA seems more like a community.
– USAA in the Community
USAA may provide insurance for just for military members and veterans, but its community involvement serves everyone. USAA donates and volunteers in the following areas:
Poverty — USAA helps families and individuals who struggle with poverty, homelessness, and hunger.
Education — USAA helps support programs that teach students critical life skills.
Safety and Natural Disaster Response — USAA helps support programs that teach communities natural disaster preparation and recovery skills.
Any nonprofit organization can request help from USAA in the form of grants or volunteers. As a result, USAA helps a wide range of nonprofit organizations.
– USAA's Employees
Looking at what employees think of the company they work at can be insightful. Before we get into what employees rated their experience at USAA, we want to see the demographics of those who work at USAA.
Below is A Great Place to Work's information on employees' age.
The majority of USAA's employees are millennials or Generation Xers. Next, let's see how long these generations stay at USAA.
The majority of employees seem to stay five or fewer years. To make sure this isn't because they hate the company, let's take a look a the employees' ratings.
89 percent of USAA employees say USAA is a great place to work.
Let's break this statement down further.
A number of employees seem to be happy with USAA's work environment. To make sure we are getting the whole picture, though, we want to look at two more employee rating sites.
On Glassdoor, USAA has 3.5 out of five stars. This rating is based on almost 3,000 employee reviews.
64 percent of employees also said they would recommend USAA to a friend, and 73 percent of employees said they approve of USAA's CEO.
However, some of the common complaints in reviews were:
Call center is stressful
Poor work and life balance
Other reviews, though, said that there are great benefits and the work environment is good.
Finally, let's take a look at USAA's rating on Payscale.
USAA has 3.9 out of five stars on Payscale.
This rating can be broken down into the following categories.
USAA scored best in the categories of company outlook, learning and development, and manager relationship. However, USAA scored low in pay transparency and fair pay.
This is common. Few employees are satisfied with their salaries, no matter what company they work at. All in all, though, USAA's employees think highly of the company's leadership and work environment.
– Awards and Accolades
Now that we know what customers and employees think of USAA, we want to take a look at what awards and accolades the company has won over the years.
USAA has also won the following awards from Glassdoor:
2009 Award for One of the Best Places to Work (#36)
2014 award for Top CEOs (#22)
As you can see, USAA has an impressive list of awards to its name. And since a number of the awards are for USAA's workplace, the company is doing something right.
Cheap Car Insurance Rates
USAA is known for its economical rates, but we want to make sure you are actually getting the best deal with them.
Some companies may seem cheap, but then hidden costs make your policy much more expensive than anticipated. To make sure there aren't any hidden surprises in your fee, we partnered with Quadrant to bring you data on USAA's rates.
So stick with us we go through the factors that can cause USAA's rates to increase.
– USAA Availability and Rates by State
If you move around frequently, you need to pick a provider that's available in all 50 U.S. states. Otherwise, you'll have the headache of finding a new provider every time you move.
USAA is available in all 50 U.S. states.
Its widespread availability is probably part of the reason USAA is a major company. However, a move to a new state will result in a price change, as rates vary by location.
USAA's average rate is less than the state average in every single U.S. state. This means that no matter where you move to, USAA will be one of the cheapest options available.
– Comparing the Top 10 Companies by Market Share
While USAA is cheaper in all states, this doesn't necessarily mean it will always be the cheapest company. Let's see how USAA's rates compare to the other top nine companies.
USAA is generally the cheapest company. However, Geico sometimes beats out USAA for the cheapest rates. If you are non-military, Geico is also a good option.
– Average USAA Male vs. Female Car Insurance Rates
Using gender as a price factor may seem sexist, but insurers use gender to determine rates in almost all states.
Insurers can't use gender as a price factor in California, Hawaii, Massachusetts, Montana, Pennsylvania, North Carolina, and parts of Michigan.
In all other states, insurers generally charge males more than females. Why? Insurers' accident data and studies have shown that males are riskier drivers than females, at least when males are younger.
So let's see how gender and age affect USAA's rates.
Until males reach age 35, they pay more than females for car insurance. You may have also noticed that married or single was included in the demographics.
If you're married, ask your provider about a discount. Most providers offer married couples a small price reduction, as there are now two people responsible for paying the premium.
– Average USAA Rates by Make and Model Last Five-Year Average
How much time do you spend researching a car before you buy it? The more time you spend finding a car with economical repair parts and great safety ratings could reward you with a cheaper car insurance rate.
To give you an example, USAA charges the following for different vehicle makes and models.
The most expensive car on the list is a Ford F-150 SuperCab, which costs $450 more to insure than a Honda Civic (the cheapest to insure).
So if you take the time to research your car, it could make sure that extra $450 stays in your pocket.
– Average USAA Commute Rates
Most insurers ask how far you drive each year. If you're on the road more, they'll charge you more since they are taking on more risk. How? The longer you're on the road, the more chance there is that you'll get into an accident.
So let's see how much USAA charges on average for a long commute.
USAA charges an average of $109 for a long commute, which is a normal price increase. It's not too bad, as you'll only be paying an extra $9 a month.
– Average USAA Coverage Level Rates
Updating your coverage at a company should be economical. Making high coverage cost an outrageous amount is rather unethical, as it forces most customers to have poor and limited coverage.
Below is USAA's average prices for low, medium, and high coverages.
It only costs about $300 to upgrade from low to high coverage and $135 to upgrade from low to medium coverage.
These are very low averages, as the normal cost to upgrade from low to high coverage is around $1,000. So make sure to take advantage of USAA's low costs and get the best protection for your vehicle.
– Average USAA Credit History Rates
Monitoring your credit score will give you a good idea of what your car insurance company will charge you. If your credit score changes, you can expect to also see a change in your car insurance premium.
The average credit score in the U.S. is 675, which is usually labeled as a good credit score.
If you have a credit score in this range, you'll receive the cheapest credit score rate at USAA.
If drivers' credit scores drop from good to fair, they'll be charged an average of $400. Going from good to poor credit will cost an average of $1,900.
Even though USAA may charge more than other companies, the final total will still probably be less than other companies' rates.
– Average USAA Driving Record Rates
Equally as important as your credit score, if not more so, is your driving record.
USAA charges the most for a DUI, raising rates an average of $1,600. An accident will raise rates $580, and a speeding ticket will raise rates $360.
These price increases are normal, but keep in mind that they're just for first offenses. If you have more than one accident or DUI, you'll have higher rates than the ones shown above.
Coverages Offered
Because a lower price tag sometimes means poorer quality, we want to make sure USAA's coverages will protect you completely. Paying less doesn't mean you have to have poor coverage in an accident.
Keep reading to see what coverages, discounts, and programs USAA offers its customers.
– Types of Coverages Offered
Let's take a look at what types of coverage USAA provides to make sure it has the basic coverage and add-ons.
Bodily injury liability — Covers the costs of the other driver's medical bills if you caused the accident.
Classic car — Classic car insurance protects vintage cars and is cheaper than regular auto insurance.
Collision — Covers you if your car collides with another vehicle or object (such as a fencepost).
Commercial — Covers vehicles used for business, such as a delivery vehicle.
Comprehensive — Covers damages from things other than a collision with another vehicle (natural disasters, animal collisions, theft, and vandalism).
Extended benefits coverage — You must combine this coverage with medical payments coverage. It'll provide death benefits, disability service benefits, and wage-earner benefits after a claimable accident.
Personal injury protection — This coverage helps with medical bills after an accident.
Property damage liability — Covers the cost of the other drivers' property damage bills in an accident you caused.
Ridesharing gap coverage — Covers the gaps between driving on your rideshare insurance and driving on your personal insurance.
Roadside assistance — Helps with locked cars, running out of gas, dead batteries, and flat tires.
Umbrella — Provides extra liability coverage (useful for lawsuits).
Uninsured and underinsured motorist coverage — Protects you if you have a run-in with a driver with little or no insurance and who can't pay your accident bills.
The only noticeable coverage USAA is missing is modified car insurance, rental car coverage, and rideshare insurance. So for the price, you're getting a decent array of coverages.
– Factors that Affect Your Rates
We've gone over a number of factors already, such as:
Commute distance
Coverage level
Credit history
Demographics
Driving record
Another way to take an active role in reducing your rates, though, is using discounts.
One popular option is a bundling discount, where you buy more than one policy type at USAA. For example, you can bundle an auto and home policy at USAA to get a reduced rate.
This can also make it easier to keep track of all your insurance policies, as they will all be at one company.
– Getting the Best Rate with USAA
To get the best rate possible, make sure you're getting all the discounts you can at USAA.
With 28 discounts available at USAA, there are plenty of ways to shave off costs. Make sure to sign up for the easiest ones, such as automatic billing.
– USAA's Programs
Programs are another great way to save money. USAA offers the following programs.
Accident forgiveness – USAA customers who remain accident-free for five years will be forgiven for their first at-fault accident.
Car buying service – USAA is partnered with TruCar, where drivers can check prices on cars to make sure they aren't overpaying.
Usage-based insurance – SafePilot™ is a usage-based app that offers discounts to drivers with consistent safe driving habits.
These programs are great ways to save on your USAA policy.
– What Stands Out and What's Missing
Since we've covered quite a bit about USAA already, let's see what stands out and what's missing so far.
What stands out– USAA has cheap rates, a decent list of coverages and add-ons, and a decent amount of discounts.
What's missing – USAA lacks rideshare insurance, rental car coverage, and modified car coverage.
For the price, though, USAA is great. The coverages missing are add-ons, so they aren't terribly important in the larger picture.
Compare quotes from the top auto insurance companies and save!
Secured with SHA-256 Encryption
Canceling Your Policy
If you choose to leave USAA, you need to be prepared for the cancellation process. Insurers are usually vague about how to cancel and sometimes have hidden fees, making the process frustrating.
So if you're looking for straightforward information on how to cancel with USAA, keep reading. We will cover everything from cancellation fees to when you can cancel.
– Cancellation Fee
USAA doesn't charge cancellation fees, which is good news. Sometimes insurers will make you pay a small fee ($50) to cancel your policy with them.
– Is there a refund?
Yes, there should always be a refund if you cancel and have unused, prepaid premiums. If you prepay for a year's worth of coverage but only use six months of coverage before canceling, USAA will refund you for the remaining six months.
– How to Cancel
Now that we've covered fees and refunds, let's look at how to cancel. Stick with us for a step-by-step guide to cancellation.
– Step One: Sign Up With a New Insurer
Before you even start the process of canceling with USAA, you need to have a new insurer.
If you don't have a new insurer, you'll have a lapse in coverage after you cancel USAA. Lapses like these can result in the label of being a high-risk driver, raising rates. USAA and your new insurer will ask for the name and policy number of your past and new insurer.
Of course, if you're canceling because you sold your car and no longer drive, you don't need a new insurer. However, you will need proof of a bill of sale to give to USAA.
– Step Two: Prepare Information
Before you give USAA a call, make sure you have all the necessary information to make the process go as quickly and smoothly as possible.
You'll need:
Personal information (name, date of birth, and Social Security number)
Your current USAA policy number
Reason for canceling the policy (sold car, switching insurers, etc.)
Name of new insurer/new policy number (if switching companies)
Bill of sale or proof of license relinquishment (if you no longer need car insurance)
Collecting this information beforehand will ensure that you don't have to hang up and call back or sit on hold.
– Step Three: Contact USAA to Cancel
There are a few different ways you can contact USAA to cancel your policy.
Online — Log into your USAA policy online and contact an insurance agent to cancel.
Mail — Send a letter to USAA's headquarters (include desired policy end date and signature).
Phone — Call 800-531-USAA (8722) or at 210-531-USAA (8722) to cancel.
Canceling by mail will take the longest, so make sure to send in your letter long before your desired policy end date.
– Step Four: Confirm Cancellation
Make sure to check that the cancellation went through. There have been cases of people who thought they canceled an insurance policy and later discovered they were still paying for it.
This can happen if you have automatic billing, so make sure to sign in to your account or call USAA to doublecheck the cancellation is valid.
We also want to point out here that simply stopping payment is not an official cancellation. USAA will hold you liable for the missed insurance payments and may even take you to court.
– When can I cancel?
You can cancel at any time. If you want to avoid the hassle of refunds, though, you should cancel at the end of a renewal cycle. Your cancellation will immediately go into effect unless you listed a different desired end date to your policy.
How to Make a Claim
Car accidents are stressful enough without having to worry about if you submitted the right information for your car insurance claim.
If you want to know how to submit a claim at USAA, you've come to the right place. We will cover how to make a claim, as well as how likely it is for your claim to be accepted by looking at premiums written and loss ratios.
– Ease of Making a Claim
Before you submit a claim to USAA, make sure you've collected as much data as possible. At the very least, you should have:
Time, date, location of the accident
Description of accident
Names of involved parties/vehicles
Insurance information of the at-fault party
If possible, try to take pictures of the damages to speed the process along. As for filing the claim, you can choose from one of four methods.
App – File a claim from your smartphone on USAA's mobile app.
In-person – Check to see if there is USAA agent near you to file in-person.
Online – Sign in to your account on USAA's website to file.
Phone – Call USAA customer service at 800-531-8722.
The only method that isn't available 24/7 is visiting an agent. All the other methods are convenient and fast, making it easy to file a claim.
– Premiums Written
This may seem unrelated to claims, but the amount of premiums written tells us if a company is growing.
A company that earns more in premiums written is better positioned to pay out claims. So let's take a look at USAA's written premiums (data from the NAIC).
USAA has had a steady increase in written premiums, which is impressive. It shows customers are flocking to USAA and that the company is more than capable of paying out multiple claims.
– Loss Ratio
A loss ratio is calculated by comparing the number of claims paid to the amount earned in written premiums.
A 65 percent loss ratio means a company is spending $65 on claims for every $100 earned in written premiums.
Because of this, common sense dictates that a high loss ratio (over 100 percent) means risk of bankruptcy and a low loss ratio means a company is paying out very few claims.
Let's take a look at NAIC's data on USAA's loss ratios.
USAA's loss ratio is great. While it was a little high in 2016, it balanced itself out the next year. If you file a claim with USAA, rest assured that they pay out an acceptable amount of claims each year without risking bankruptcy.
How to Get a Quote Online
Want to make sure you're getting the best price possible? Most companies offer free insurance quotes, making it easy to compare rates and coverages.
Getting a free quote at USAA is easy, so keep reading to follow our step by step guide to apply for a quote.
– Step One: Visit USAA's Website
To get a free quote, the first thing you'll need to do is visit USAA's website.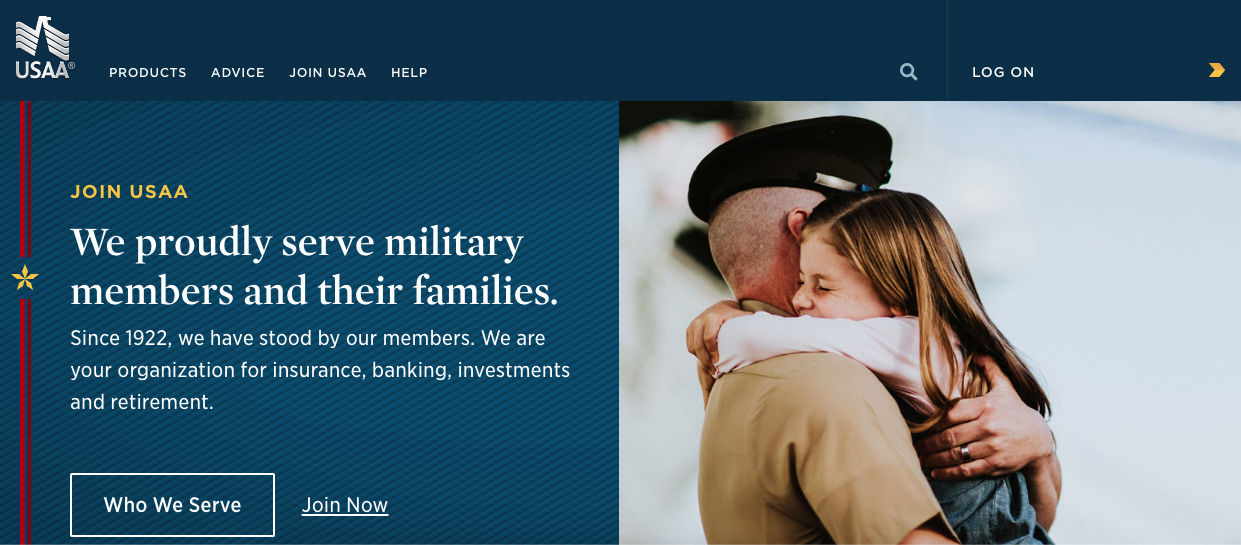 As you can see, there is no option immediately visible to get a free quote. Scroll down until you see the following quote option.
Click on Get a Free Quote under auto to be taken to the quote form.
– Step Two: Login or Create an Account
If you don't have a login already, you'll have to create an account with USAA.
If you don't have an account, click Join Online. The following screen will appear.
Click Continue to be taken to the quote form.
– Step Three: Enter Personal Information
USAA will ask for basic information, such as your name, address, and driver's license number (optional).
– Step Four: Enter Vehicle Information
Next, USAA will ask for vehicle information.
Most of these questions are meant to help USAA calculate discounts for car safety features. USAA will also ask a few questions about vehicle use to calculate commute time and risk.
– Step Five: Enter Coverage Information
The final step before getting your quote results is to pick what coverages you want on your vehicle. USAA will ask questions to help you determine this.
– Step Six: Get Quote Results
Once you fill out the coverage information, USAA will give you a personalized quote.
Once you have your quote, it's easy to compare USAA's prices to other providers. As a reminder, you need the following information to apply for a free quote at USAA.
Compare quotes from the top auto insurance companies and save!
Secured with SHA-256 Encryption
Design of Website and Apps
If you sign up with USAA, you'll be dealing with its technology frequently. To make sure you won't have to deal with glitchy apps or poorly-designed websites, we're going to go through USAA's technology design.
So stick with us to see if USAA's technology will be a plus or a minus.
– Design of Website
USAA's website is well-designed. The information is organized under main topics at the top of the webpage.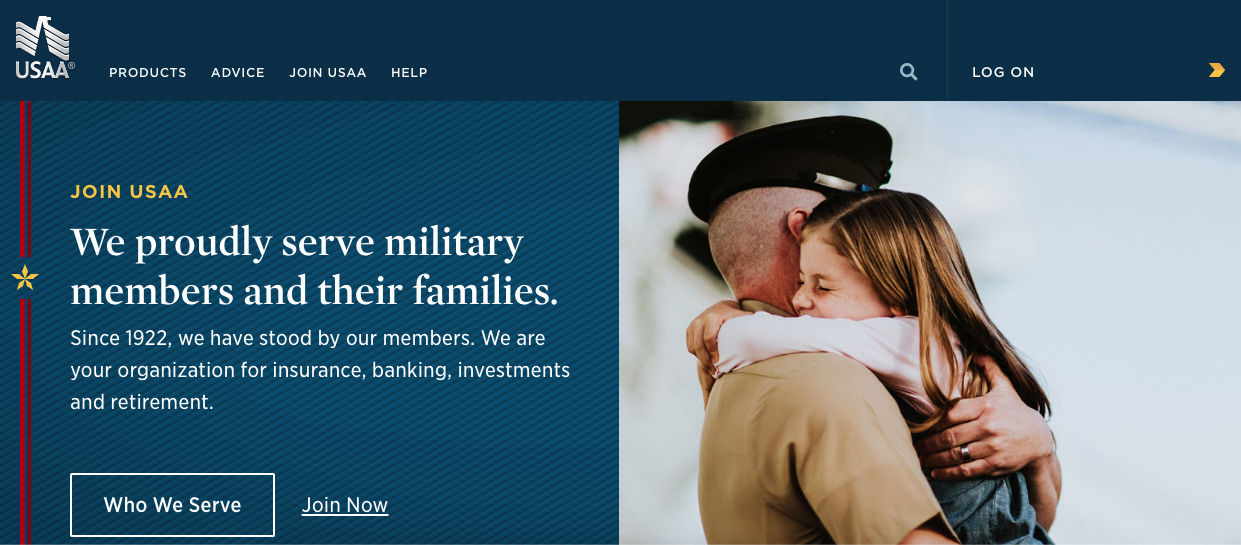 If you click on products, you will see the following menu options.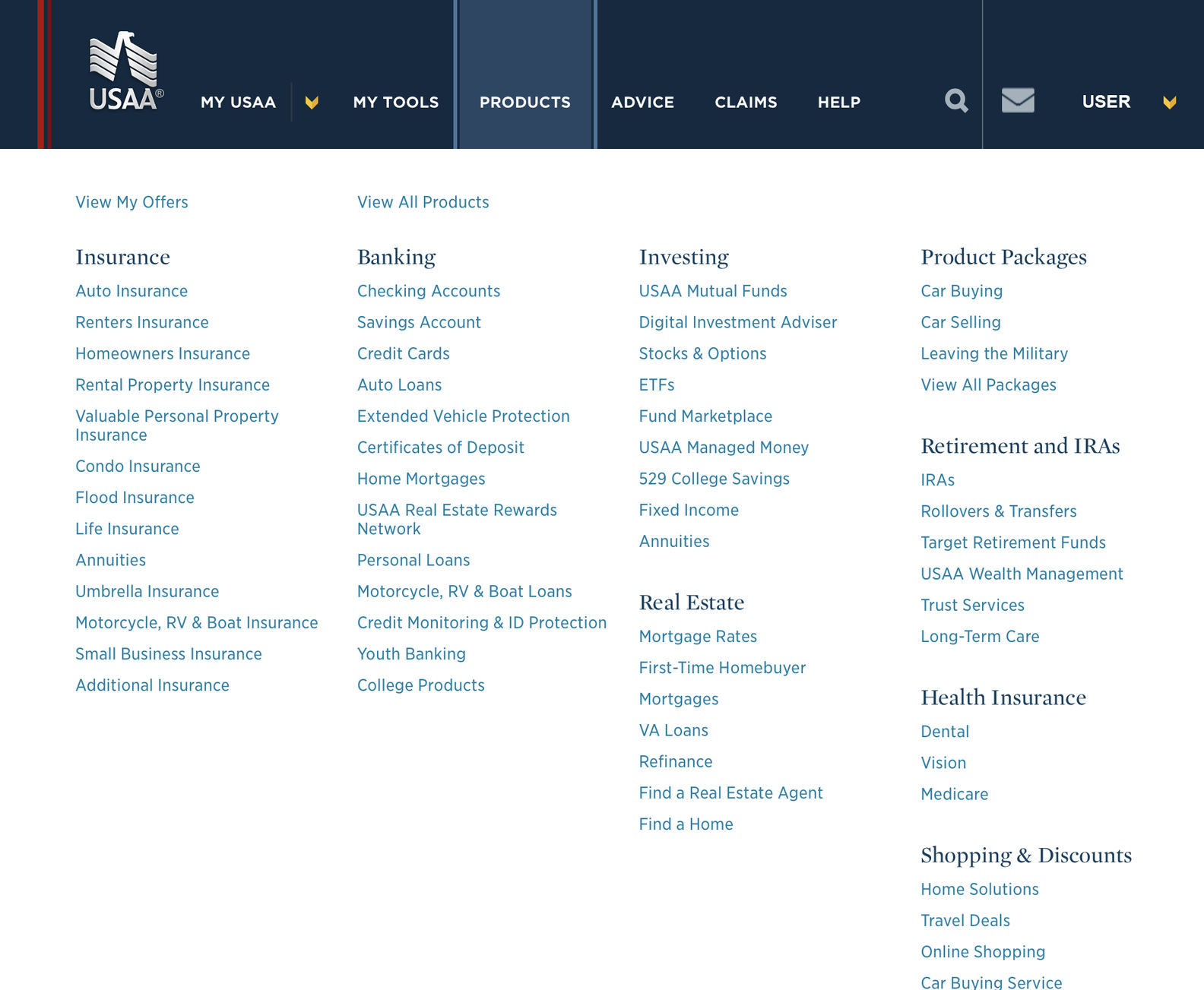 Clicking on Auto Insurance under Insurance will lead you to a wealth of information about USAA's auto insurance.
If you have a specific query, you can enter a phrase or word into the search button at the top of the webpage. There is also a USAA advice page and a help button.
Our conclusion after checking out USAA's website? It's easy to navigate and is visually appealing. The website is also fast-loading, so you won't be sitting staring at an empty page.
– Design of Apps
Let's start by looking at USAA's main app, USAA Mobile.
USAA Mobile has 4.8 stars out of five on Apple.
This is a nearly perfect rating and is based on over 626,800 ratings.
Customers can do all of the following on the app:
Ask questions
Access auto insurance ID cards
Pay bills
Roadside assistance
Report a claim
Customers seem satisfied with the app's design and functionality, making for more pluses than minuses with the app.
Unfortunately, USAA's usage-based app, USAA SafePilot, scored low in customer reviews. USAA's usage-based app only has 1.9 stars out of five on Apple.
Customers' main complaints were that the app is only available in select states, which they discovered after downloading the app.
Currently, the app is only available for use in Arizona, Ohio, Texas, and Virginia. Hopefully, USAA will expand the app into other states so all drivers have the chance to get a discount for safe driving habits.
Pros and Cons
We are nearly at the end of our review, but you may still be on the fence if USAA is right for you. If so, check out our quick list of pros and cons.
Still unsure? Comparing quotes can be a great way to make the final decision if price is a concern.
The Bottom Line
USAA has cheaper rates than the majority of providers, and it offers a decent selection of coverages and add-ons for the price.
There are also great customer satisfaction and employee ratings of USAA, which is a great indicator of how the company operates. And since USAA has solid financial reviews and has grown its market shares, it'll be able to support you after accidents.
Bottom line?
USAA is a good choice of insurer for military personnel and military veterans.
Compare quotes from the top auto insurance companies and save!
Secured with SHA-256 Encryption
FAQ
Before we end our guide to USAA, we want to go over a few commonly asked questions. So keep reading to see what others are asking. Most likely, one of your questions has already been asked by others.
– Is USAA only for military members?
Yes, USAA is only available to military members, veterans, and their families. So spouses and children can go on a USAA member's policy, but not a sibling or parent.
– Does USAA cover towing?
USAA will cover towing costs if you have roadside assistance. Roadside assistance will also cover locked cars, out of gas, flat tires, and dead batteries.
– Does USAA cover rodent damage?
Did a squirrel make a nest in your leather seats? If you have comprehensive coverage, USAA will cover repairs.
– Is USAA cheaper than Geico?
This is a question customers frequently ask. Honestly, it depends on an individual's factors, such as demographics. However, USAA does tend to be cheaper than Geico for the majority of customers.
– Does USAA cover other drivers who borrow my car?
Yes, USAA will cover your friend if they borrow your car. The insurance is on your vehicle, not on your physical self.
So if your friend gets into an accident, it is claimable with USAA.
– Does USAA cover rental cars?
USAA doesn't have rental car reimbursement. So if you are in a claimable accident, USAA won't give you a rental car while your car is in the shop.
We hope we answered all your questions about USAA. Ready to make the decision? Getting the proper protection is an important choice, but USAA is a solid choice of provider.
If you would like to compare rates at companies, enter your ZIP code in our free rate tool below.
Compare quotes from the top auto insurance companies and save!
Secured with SHA-256 Encryption